Bigg Boss Tamil Season 6 – Kamal Hassan has hosted 5 successful seasons of Bigg Boss Tamil! The show consistently has the highest TRP of all time, and the next season is eagerly anticipated. Season 5 will premiere on Star Vijay and Disney+ Hotstar in October 2021! The new season is also expected to premiere in October. More information about Bigg Boss Tamil Season 6 can be found below!
Bigg Boss Tamil Season 6 Contestants List
GP Muthu
Robert Master
Manikanta Rajesh
Rachitha Mahalakshmi
ADK
Shanthi Master
Amuthavanan
Mynaa Nandhini
Bigg Boss Tamil Season 6 Contestants Name List With Photo
Tiktok and YouTube star GP Muthu is expected to compete in Bigg Boss Tamil Season 6. He was supposed to appear in the final season of the show, but he did not. He has over 1 million YouTube subscribers.
Asal Kolaar aka Asal Kolaar is an Indian film singer/lyricist who has primarily worked in the Tamil film industry. Asal has appeared in films such as Coffee With Kadhal and Gulu Gulu. In the year 2022, Asal's previous film to hit theatres was Coffee With Kadhal.
Shivin Ganesan is a proud transgender woman who moved to Singapore to pursue her career. She found independence in her new home, and her mother had constantly tried to break her "phase," but then realised life might be difficult for her here and sent her to Singapore.
Shivin, on the other hand, decided to return to India, believing that the only reason she had stayed away was because her gender identity could make life difficult, and she chose to still come here and face the consequences. Shivin wanted to establish that a person's gender identity is only relevant to their partner, and that the rest of society should ideally not make it their focus.
Mohammed Azeem, who has primarily worked in the Tamil television industry, will also appear on the show. Azeem has appeared in popular television shows such as Maya with Vaani Bojan, Kadaikutty Singam, Pagal Nilavu with Shivani Natarajan, Priyamanaval, and Deivam Thandha Veedu.
One of the rumoured contestants is popular dancer and choreographer Robert Master, who is said to have indirectly confirmed his participation in the show. He received the Vijay Award for Best Choreographer in 2012 for his work on the Tamil romantic film Podaa Podi.
Ayesha is a South Indian model and actress from Kasaragod in Kerala who is particularly active in the Tamil film industry. She is well-known and respected for her role in the Zee Tamizh serial "Sathya," as well as her expressions in TikTok videos.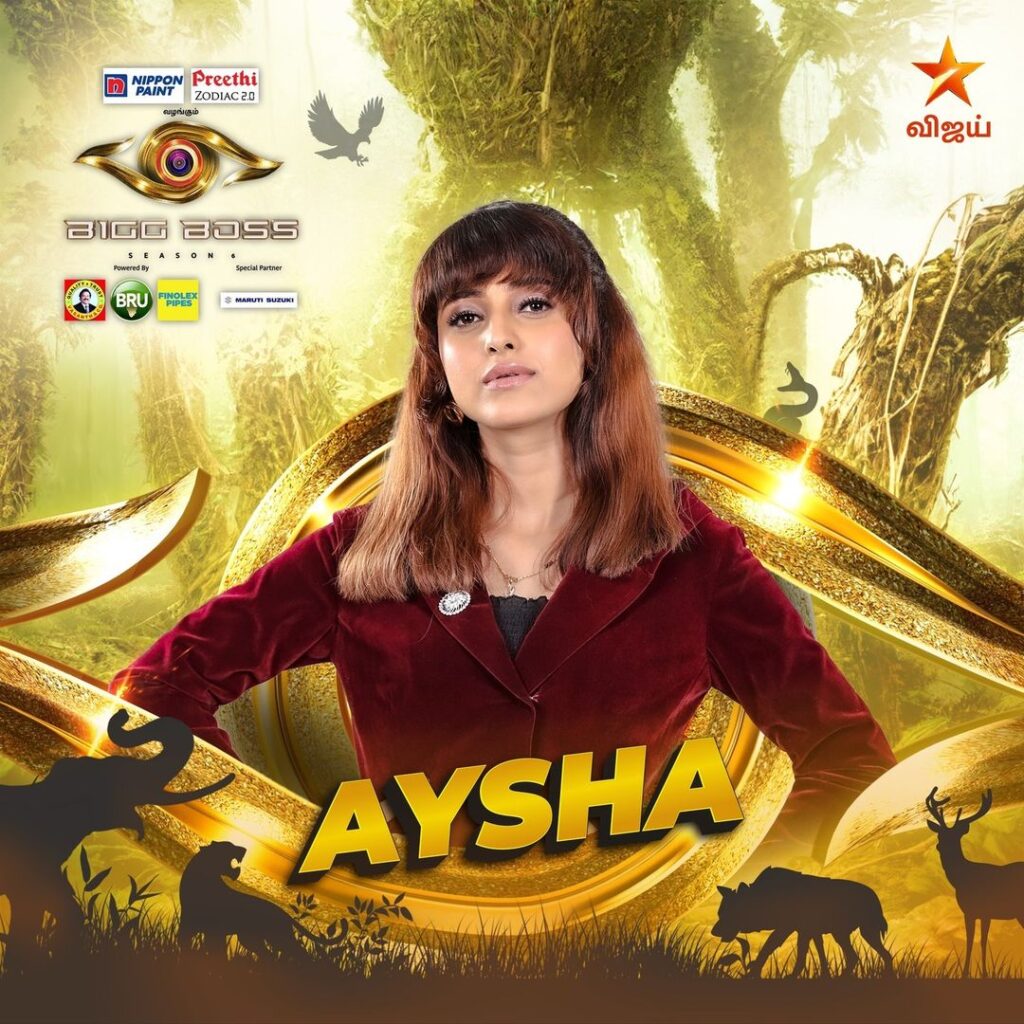 Sheriina, a Bigg Boss Tamil Season 6 contestant from Cochin, Kerala, is an Indian model who has frequently represented India abroad. The elegant and stunning model competed in numerous international beauty pageants and art exhibits. She is a multi-talented and successful diva, star, and performer.
Manikandan Rajesh, the elder brother of popular Tamil actress Aishwarya Rajesh, He is married to Tamil actress Sofia, and the couple appeared on the reality show Mr. and Mrs. Chinnathirai recently.
Another name on the list of expected Bigg Boss Tamil 6 contestants is Rachitha Mahalakshmi. She primarily appears in Tamil films and serials, but she has also appeared in a few Telugu and Kannada films. Her most well-known roles are in the show Saravanan Meenatchi.
He is a cricketer who has also modelled for various brands, anchored television shows, and made his acting debut in a new film set to be released in 2023. The Chennai-born teen has appeared on reality shows before, including India's Top Model, which aired on television.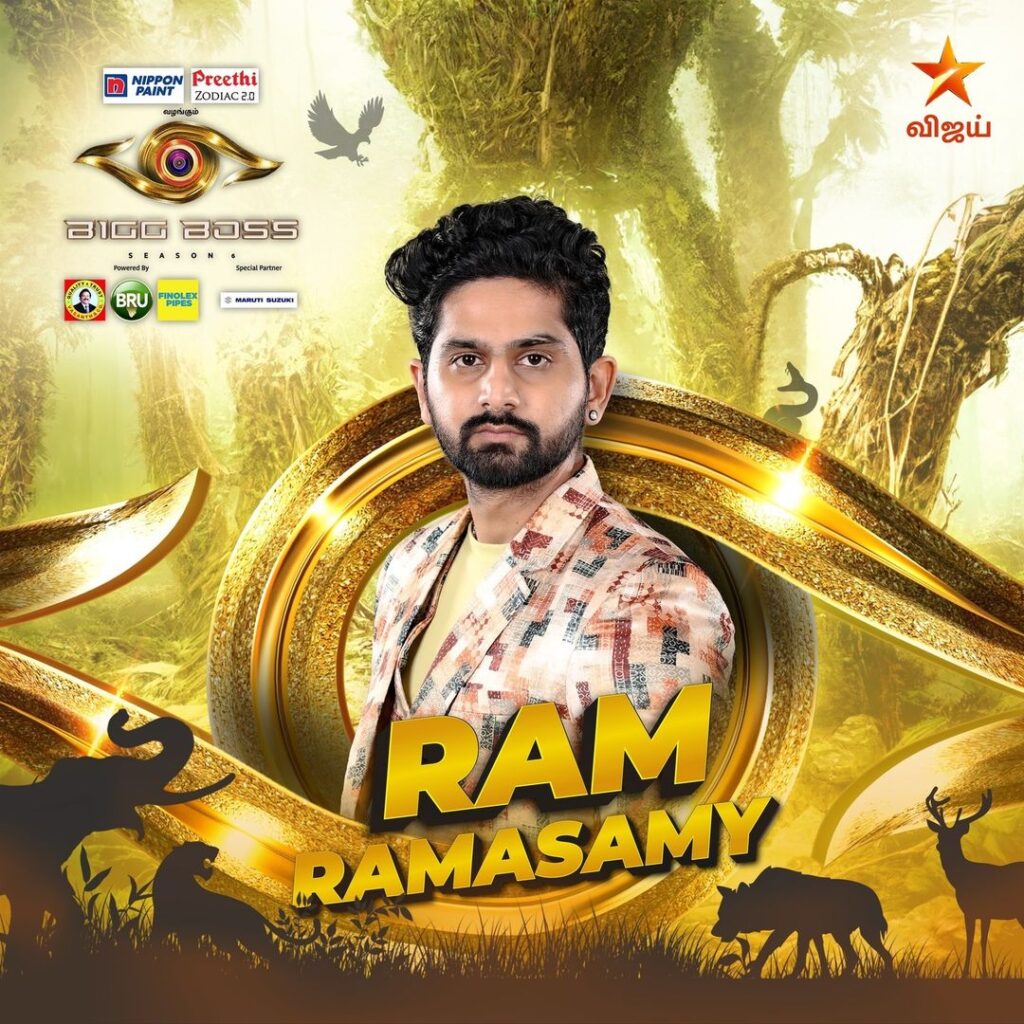 Aaryan Dinesh Kanagaratnam, also known as ADK or simply Dinesh Kanagaratnam, was born on August 30, 1981, in Sri Lanka. He is a hip-hop Rhythm and Blues performer who has written Tamil songs. As a playback singer, he frequently collaborates with music directors in Tamil and Telugu films.
Janany is a 22-year-old Sri Lankan Tamil model, anchor, and social media influencer. She is employed at IBC Tamil. She is a foodie as well as an Ayurvedic specialist.
Shanthi Arvind is a South Indian dancer and actress who was born on February 17, 1980. Metti Oli Shanthi, or Shanthi Master, is another name for her. At the age of ten, she made her film debut as a dancer in Kizhakku Vaasal (1990).
"Journalist" by profession Later, R. Vikraman sought refuge in Thol. Big Brother Vikraman was a former editor and correspondent for a popular Chennai news channel. He began his career as a journalist before becoming a spokesperson for his Viduthalai Chiruthaigal Katchi. Vikram completed his Net Zero Fellowship at the Bangalore School of Policy and Governance. Vikraman Radhakrishnan is a Bigg Boss Tamil contestant.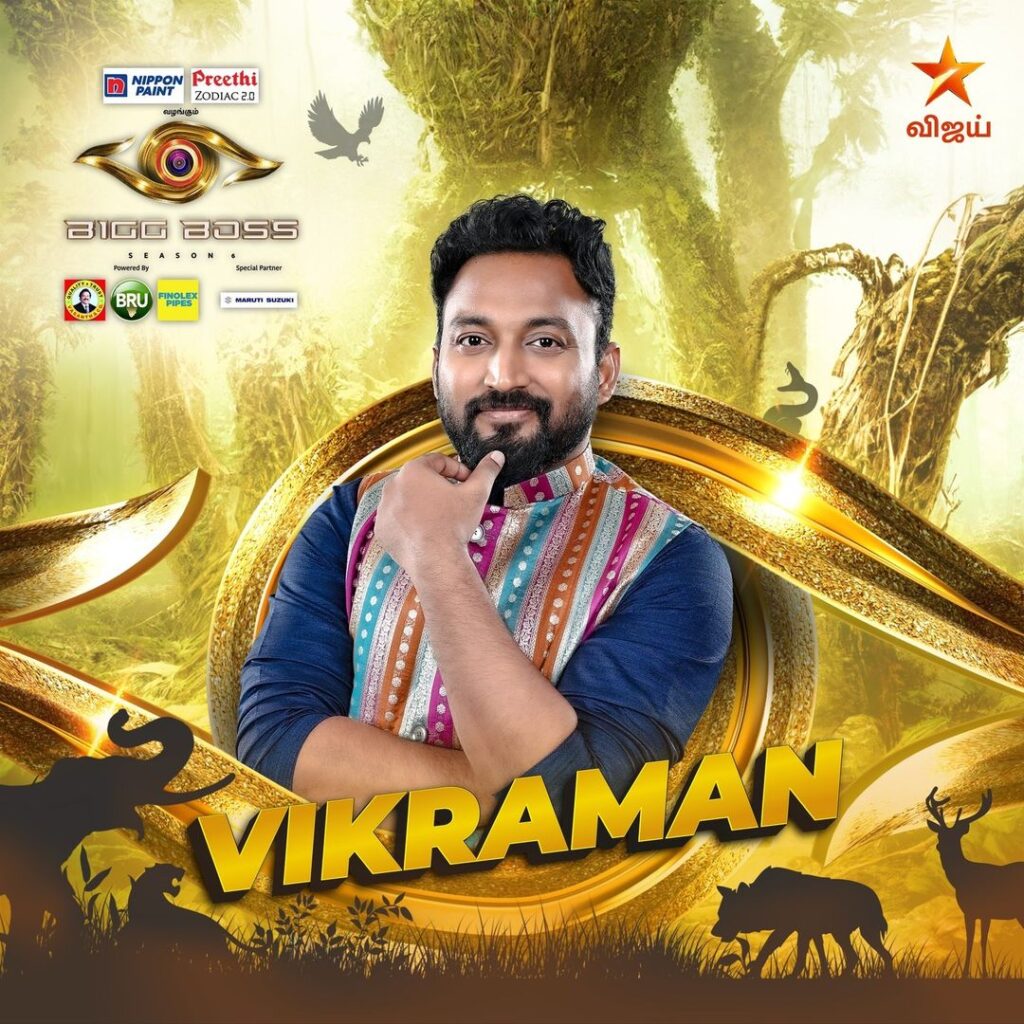 Amudhavanan is best known for his role as Vijay TV Amudhavanan. Amudhavanan was born and raised in Chennai, Tamil Nadu, and has appeared in numerous reality shows as well as a few Tamil films. Films featuring his artistry have already aired in Tamil. Amudhavanan is a multi-talented mimicry performer, actor, and dancer, but most of his work is limited to the Tamil television sector.
She began her career as a TV VJ before making her acting debut in the Tamil film Kuyil in 2010. Maheswari is currently appearing in the short film Kaara and playing the lead role in Sembaruthi. She's also the host of Dance Jodi Dance 2.0.
Kathiravan began as an anchor in Sun Music shows and gradually rose to prominence. He has appeared in several short films and music videos. His video for Ennoda Nee Irunthaal has over 2 million views. Kathiravan is a married woman with a child.
Queency Bigg Boss Tamil, also known as Queency Stanly, is a South Indian actress, dancer, and model who primarily performs in Tamil. She grew up in Coimbatore, Tamil Nadu, India, where she was also born.
Bigg Boss Nivashini Nivashini aka Nivaa is a model, social media influencer, creator of digital content, and entrepreneur. She is currently residing in Chennai. She is a Tamil-speaking Singaporean. Nivishani Bigg Boss, also known as Nivaa, is the first Singapore Contestant, and the Tamil audience in Singapore is eagerly anticipating her performance.
Dhanalakshmi is another confirmed contestant for Tamil Bigg Boss season 6. Yes, she is from Tamil Nadu, as her name suggests. Erode, Tamil Nadu, is where she was born and raised. Her birthday is May 17, 2000. She is a 2000-pound child. She is an actress, Tik Toker, and Social Media Influencer. We can anticipate a lot of good qualities from Generation Y. She is also one of Bigg Boss 6's youngest contestants.
Bigg Boss Tamil Season 6 Contestants Elimination List
Walk Out.. ( 22 October 2022 )

Eliminate(23 october 2022)

1st Elimination
Bigg Boss Tamil Season 6 Telecast Details
Bigg Boss Tamil Season 6 Host
Bigg Boss Tamil Season 6 Contestants Salary
Bigg Boss Tamil Winners List
Bigg Boss Tamil Season 1 Winner – Arav Nafeez
Bigg Boss Tamil Season 2 Winner – Riythvika
Bigg Boss Tamil Season 3 Winner – Mugen Rao
Bigg Boss Tamil Season 4 Winner – Aari Arujunan
Bigg Boss Tamil Season 5 Winner – Raju Jeyamohan
Bigg Boss 6 Tamil 3rd November Today Episode Online Watch
Bigg Boss 6 Tamil 2nd November Today Episode Online Watch
Bigg Boss 6 Tamil 1st November Today Episode Online Watch
Bigg Boss 6 Tamil 31st October Today Episode Online Watch
Bigg Boss 6 Tamil 30th October Asal Elimination
Bigg Boss 6 Tamil 29th October Kamal Roast Azeem
Bigg Boss 6 Tamil 28th October Today Episode Online
Bigg Boss 6 Tamil 27th October Today Episode Online
Bigg Boss 6 Tamil 26th October Today Episode Online
Bigg Boss 6 Tamil 25th October Today Episode Promo
Bigg Boss 6 Tamil 24th October Today Episode Promo
Bigg Boss 6 Tamil 23rd October Today Episode Promo
Bigg Boss 6 Tamil 22nd October Today Episode Promo
Bigg Boss Tamil 6 21th October Today Episode Promo
Bigg Boss 6 Tamil 20th October Today Episode Promo
Bigg Boss Tamil 6 19th October Today Episode Promo
Bigg Boss Tamil Season 6 (Day 9) 18th October Today Promo
Bigg Boss Tamil Season 6 (Day 8) 17th October Today Promo
Bigg Boss Tamil Season 6 (Day 7) 16th October Today Promo
Bigg Boss Tamil Season 6 (Day 6) 15th October Today Promo
Bigg Boss Tamil Season 6 (Day 5) 14th October Today Promo
Bigg Boss Tamil Season 6 (Day 4) 13th October Today Promo
Bigg Boss Tamil Season 6 (Day 3) 12th October Promo
Bigg Boss Tamil Season 6 (Day 2) 11th October Promo
Bigg Boss Tamil Season 6 (Day 1) 10th October Promo
Bigg Boss Tamil Season 6 New Promo